DEBLANC MUSIC ENTERTAINMENT
& LV PROMO MODELS
Presents
LAS VEGAS BEST - AUDITIONING & TRAINING
LIVE IN HONOLULU, HAWAII
Model Specialty & Vocal Premier
Modeling, Deportment, Singing & Artist Development Event
Saturday, September 8th 2018
The New Otani Kaimana Beach Hotel 2863 kalakaua Avenue, Honolulu, Hawaii 96815
SURPRISE INDUSTRY GUESTS! & CASTING DIRECTORS!
Train with the Best!
Early Registration - Limited Seats ONLY $225 Before August 15th or
$325 at the Door!
Includes Complimentary Wikiki Photoshoot & Rockin the Runway Parade
Saturday, September 8th 2018
8am-1pm
Includes Sunday Showcase at The Imperial Palace
***********************************************************************************************************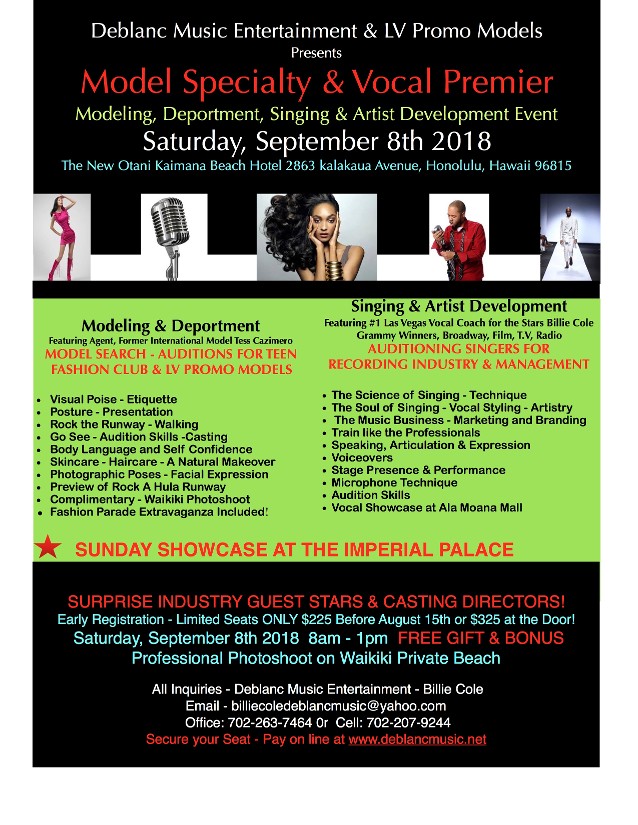 Modeling & Deportment - Model Specialty Camp
Featuring Former International Model Tess Cazimero
MODEL SEARCH - AUDITIONS FOR TEEN FASHION CLUB & LV PROMO MODELS
Visual Poise - Etiquette
Posture - Presentation
Rock the Runway - Walking
Model Stance
Audition Skills
Body Language and Self Confidence
Skincare - Hair care - A Natural Makeover
Photographic Poses - Facial Expression
Complimentary - Waikiki Photoshoot
Fashion Parade Extravaganza Included! Ala Moana
Vocal Premier - Singing & Artist Development Camp
Featuring #1 Las Vegas Vocal Coach for the Stars Billie Cole Grammy Winners, Broadway, Film, T.V, Radio
AUDITIONING SINGERS FOR
RECORDING INDUSTRY & MANAGEMENT
The Science of Singing - Technique
The Soul of Singing - Vocal Styling - Artistry
The Music Business - Marketing and Branding
Train like the Professionals
Speaking, Articulation & Expression
Voiceovers
Stage Presence & Performance
Microphone Technique
Audition Skills
Vocal Showcase at Ala Moana Mall
All Inquiries, Reservations & Payment
Deblanc Music Entertainment - Billie Cole
Email - billiecoledeblancmusic@yahoo.com
Office: 702-263-7464 0r Cell: 702-207-9244
Payments can be made under Schedule and payment Icon
Please include your name and contact information at registration to reserve your seat!
www.deblancmusic.net